Get A Consultation From Our Pest Specialists Now!
Fill Out The Form Below to get a Consultation by our certified pest control  specialist, or give us a call today at (617) 315-0021 …
Note: We promise to keep your info safe.
Have Bugs? We Can Help. We are Pest Control Boston King - Massachusetts's Top Exterminator!
Looking for an Exterminator Near You? We are a division of Ladybug Pest Control (Locally Owned and Operated, Licensed, and Part of the New England Pest Management Association)
Although you may feel inclined to fix the pest problem on your own, doing so isn't always realistic or effective. Sometimes, it is best to seek out a professional, who has tons of experience eliminating and eradicating pests. The good news is that you've come to the right place. In fact, you've already found the best local pest control expert Boston has to offer. Our critter control experts has worked diligently over the years ensuring that Bostonians have been able to live comfortably in pest-free homes. Below, you will find a list of potential pests and the unique complications associated with each pest. We provide pest management solutions for all these pest for residential and commercial properties!
Cockroach Pest Control Services

There are tons of critters that can enter your home, but nothing is worse than the cockroach. Roaches tend to be the most frightening and will definitely make your skin crawl. They're absolutely hideous and incredibly embarrassing. Once your home has been infested, you'll want to keep your friends and family members as far away as possible, until they've been completely eliminated.
Of course, roaches are far worse than you could ever imagine. They're capable of transmitting diseases and could make you sick. When you've spotted roaches in your home, you will want to make contact with Boston's best pest control company, so we can remove them immediately!
Boston Pest Control – Rats And Mice – Rodent Removal



Although cockroaches are terrible, rats and mice can be far worse. This is true, because these critters are bigger and much more destructive. They're also incredibly dangerous, since they tend to carry diseases and many of these illnesses can be deadly! If you have severe allergies, you're in even more trouble. These critters can dramatically increase the amount of allergens in your home. Their urine and droppings can contribute to this and may trigger asthma or other health related problems. Mouse control is our expertise!
These animals are also capable of damaging your home severely. They're known to chew on anything and everything that they come across. They will chew right through your walls, if they're not stopped ahead of time. We provide rodent control for mice and rats! Call us now for a licensed exterminator that serves Boston!
Bed Bug Treatment & Removal Pest Management

Although bed bugs haven't been known to be deadly to humans, they're still an incredibly problematic pest. This is the case, due to the obnoxious behavior of these bugs.As soon as you attempt to lie down and go to sleep, the lights will be shut off and the bed bugs will emerge. They'll be incredibly hungry and you will become their main course.
Need Bed Bugs Control? Call (617) 315-0021
Bed bugs have an insatiable craving for blood and this will become very evident, when you discover bites all over your body. Although these bugs aren't nearly as destructive as roaches and rats, they can still leave behind excrement and a musty odor. Again, they need to be eliminated rapidly, or they'll spread like crazy and overrun your home. We can take care of these bed bugs! Call us now for a licensed bed bug exterminator and an effective treatment plan!
Carpenter Ants Control
Many consumers do not fear ants and simply kill them, before heading on their way. Although these pests aren't dangerous and do not transmit diseases, they can still be very annoying! Not only will they eat your food and make your skin crawl, but also these critters are capable of severely damaging your home's structure. The problem occurs, due to the fact that carpenter ants actually nest within wood.
Stinging Insects
Stinging insects are dangerous and annoying. When your home becomes infested with wasps, yellow jackets, bees or hornets, you'll want to remedy this problem immediately and this is why you'll want to count on us. We have the solutions you're looking for and we can take care of all stinging insects.
Wasps
Wasps are very problematic. If you're allergic to them, there is a good chance that a string is going to result in numerous problems. With that being said, you should not attempt to solve this problem on your own. Doing so will put you at risk. You should work with us. We can get rid of wasps quickly.
Yellow Jackets
Yellow jackets can sting and their sting will hurt horribly. Suffice to say, you do not want to get stung. If you want to remove the risk, you should rely on the professionals. We can get rid of yellow jackets for you. Contact us to get started immediately. We offer yellow jacket extermination services in Boston.
Hornets Nests
When you spot a hornet's nest in or around your home, you need to act immediately. Failing to do so will allow the problem to worsen. Working with us is the best way to handle the problem. We can get rid of the nest and the hornets quickly and conveniently.
Pantry & Clothing Moths
A lot of people have moths around their home. They'll become a problem once they've infiltrated your home. When this happens, you'll want to get rid of the moths quickly. Our company is here to help. We have the skills and tools needed to eliminate pantry and clothing moths.
Fleas Pest Management
Fleas are going to cause problems for you and your pets. Suffice to say, you cannot allow them to stay in your home. If you do, you can guarantee that the problem is going to spiral out of control. You need to work with us. We are the leading flea extermination company in Boston. With our help, you can guarantee that the fleas will be gone before you know it!
Flies & Fruit Flies
Flies and fruit flies can be a real annoyance. If your home is infested with flies, you need to remedy this problem soon. Otherwise, they're going to spread and grow. Before you know it, the problem will be far worse and you might not be able to solve the issue. If you want to take care of the problem conveniently, you should act immediately. Our company offers extermination services for flies and fruit flies.
Termites Pest Management
Termites are very dangerous. If you're not careful, they're going to turn your life upside down. Simultaneously, they'll destroy your home. You have to kill termites as soon as possible. We offer the best solutions at excellent prices. With our help, you can guarantee that your termite problem is going to be dealt with quickly and efficiently.  We follow integrated pest management protocols, and If you want to put a stop to the problem for good, you should call us.
Wildlife Management & Wildlife Removal
Whether you're dealing with raccoons, squirrels, or opossums.. we can help! Whether they're living in a crawl space, attic or around your home perimeter, we think we can help. Give us a call for your animal removal needs, we will let you know right over the phone if we can help with your specific wildlife control issues.
We Handle Commercial Pest Control As Well
While we work with a lot of consumers in Boston, we also offer commercial pest control services. If you're trying to eliminate pests in your restaurant or hotel, you need to rely on us. We've got the commercial pest solutions you're after and you can rest assured knowing that we'll be able to find a solution to your needs.
Boston MA Pest Management for Hotels And Motels
Unfortunately, hotels are hot spots for bed bugs. If you get bedbugs in your motel, you're going to have a tough time convincing people to stay for the night. We can help with commercial pest control ! We offer bedbug removal services. We can also get rid of coaches, spiders, and other problematic bugs.
Pest Management for Restaurant & Businesses
We also work with restaurant and other business owners. Regardless of the type of business you're operating, you should not hesitate to work with us for your commercial pest control needs. When you experience a pest problem, you need to call us. We'll find a way to get those roaches out of your restaurant!
We Are Boston's Best Pest Control Company!
 An infestation by any of the aforementioned pests will prove to be incredibly problematic and needs to be eliminated rapidly. Although some pests can be killed with commercial sprays, others are much more stubborn and will stick around, regardless of the techniques and products you use. We are the top pest control experts in Boston and our technicians have been professionally trained to eradicate all pests from your home. Below, you will discover the enormous benefits of utilizing our pest control services.
Our team of pest experts has been around the block many times and they've seen some of the worst-case scenarios. Regardless of the situation and its severity, our technicians will be able to rectify the problem, so you can get back to your normal life and reclaim your home and sanity!

Our company has put in a diligent amount of effort ensuring that all of our techniques and chemicals are safe and effective. When utilizing our pest control services, you can rest assured knowing we will never use harmful chemicals in your home. We refuse to put our families and pets in harm's way and we will treat each and every one of our clients with the same courtesy.
Time To Hire The Best Pest Control Company Boston Has To Offer!
If you're sick and tired of sharing your home with pests, bugs and other critters, it is time to take action and rectify the problem. Don't worry, because you will not need to look far. Just take a deep breath, pick up the phone and give us a call. We'll help you reclaim your home, as quickly as possible and by using safe products. Our pest management is professional, and we follow licensing protocols unlike some other pest control companies. Hire the best for your home and business!
Looking for pest exterminators near you? Don't worry, we service a lot of areas. Areas We service (Boston and the Surrounding Areas):
Allston/Brighton MA, Back Bay MA, Beacon Hill/West End MA, Charlestown MA, Chinatown MA, Dorchester MA, Downtown MA, East Boston MA, Fenway/Kenmore MA, Hyde Park MA, Jamaica Plain MA, Mattapan MA, Mission Hill MA, North End MA, Roslindale MA, Roxbury MA, South Boston MA, South End/Bay Village MA, West Roxbury MA, Waltham MA, Quincy MA, South Shore, Eastern Massachusetts, Weymouth MA, Braintree MA, Randolph MA, Norwood MA, Westwood MA, Canton MA, Hingham MA, Milton MA, Dedham MA, Needham MA, Newton MA, Brookline MA, Cambridge MA, Brook Farm MA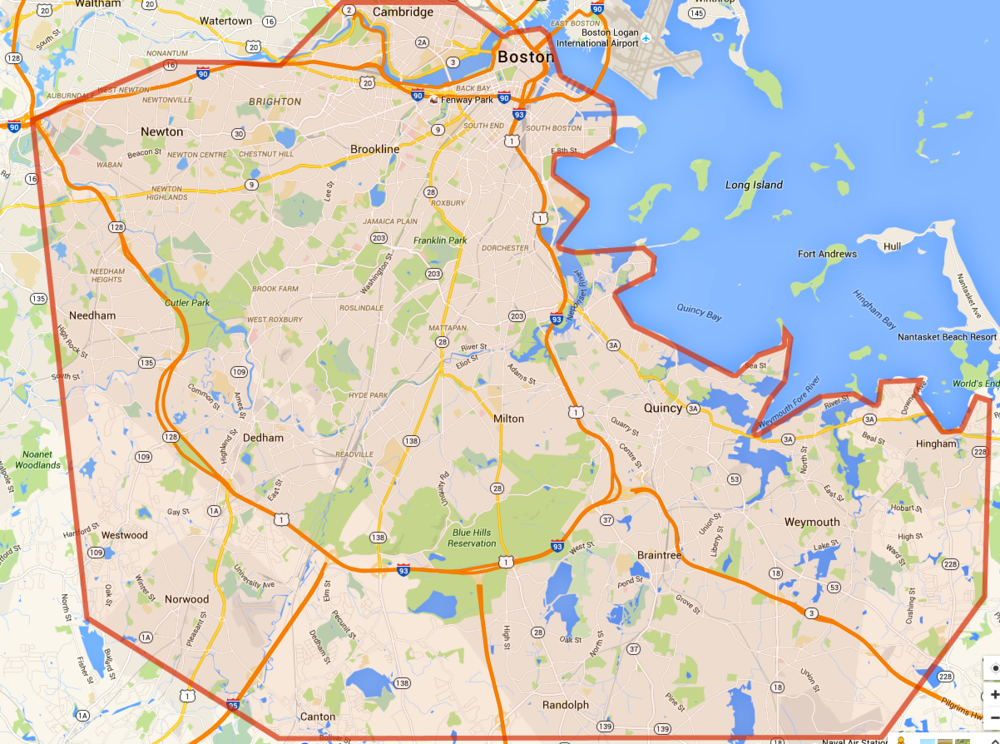 We do not offer mosquito control.
We service the following cities and towns, and Greater Boston
Allston MA, Brighton MA, Braintree MA, Brockton  MA, Brookline MA, Cambridge  MA, Canton MA, Charlestown MA, Chelsea MA, Chestnut Hill MA, Cohasset MA, Dedham  East MA,. Somerville MA, East Weymouth MA, Everett MA, Hanover MA, Hingham MA, Holbrook  Hull MA, Malden MA, Medford MA, Milton MA, Newton MA,  North Quincy MA, North Weymouth MA, Norwell MA, Quincy MA,  Randolph MA, Scituate MA, Somerville MA, Stoughton MA,Weymouth MA, Boston MA,
Boston Neighborhoods
Chinatown MA,Dorchester MA,  East Boston MA, Hyde Park MA, Jamaica Plain MA, Mattapan MA, Mission Hill MA, North End MA, Roslindale MA, Roxbury MA, South Boston MA, South End MA, West Roxbury MA.